antropofagia(a_person_sitting_on_a_chair)
duration: 3'41''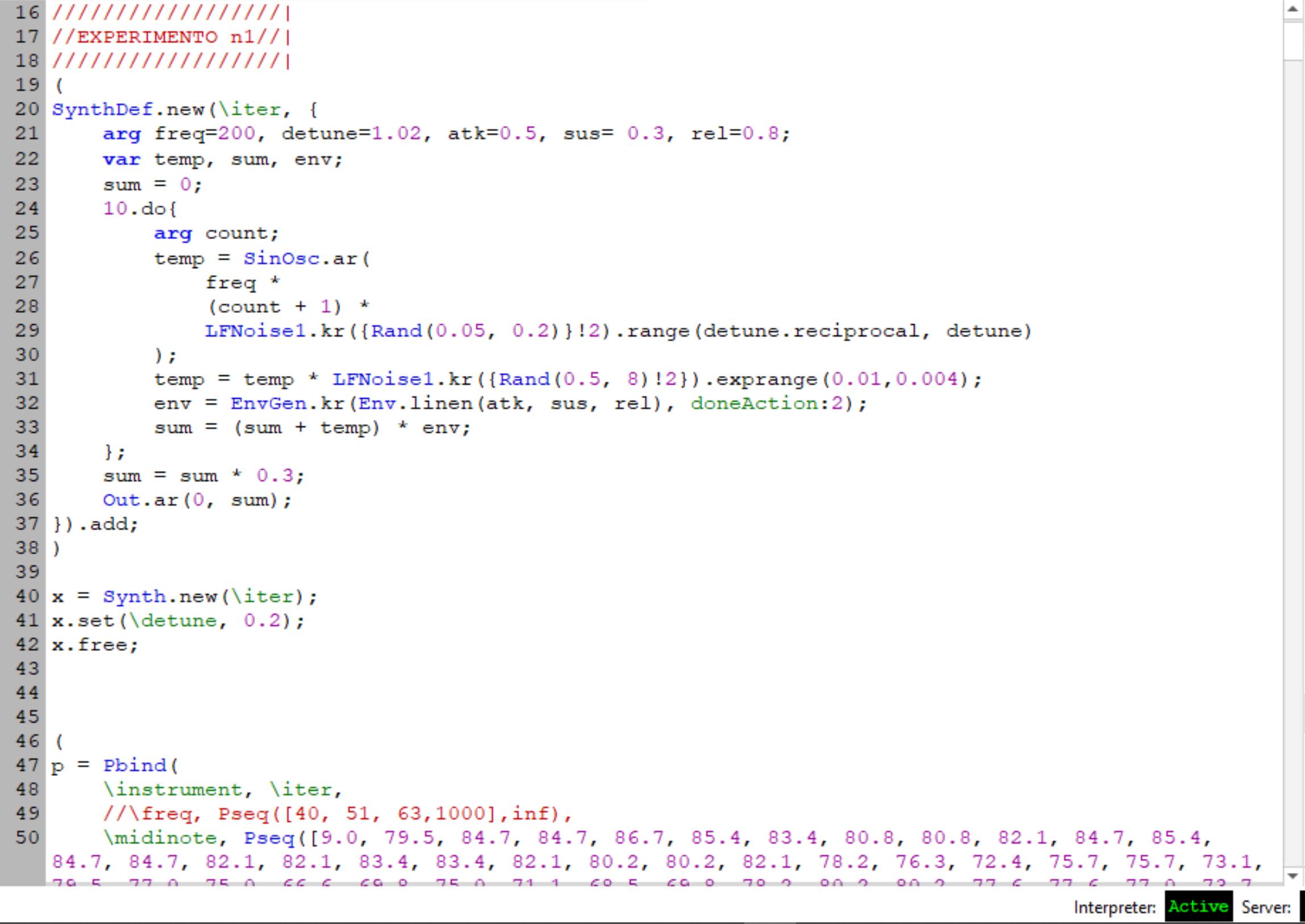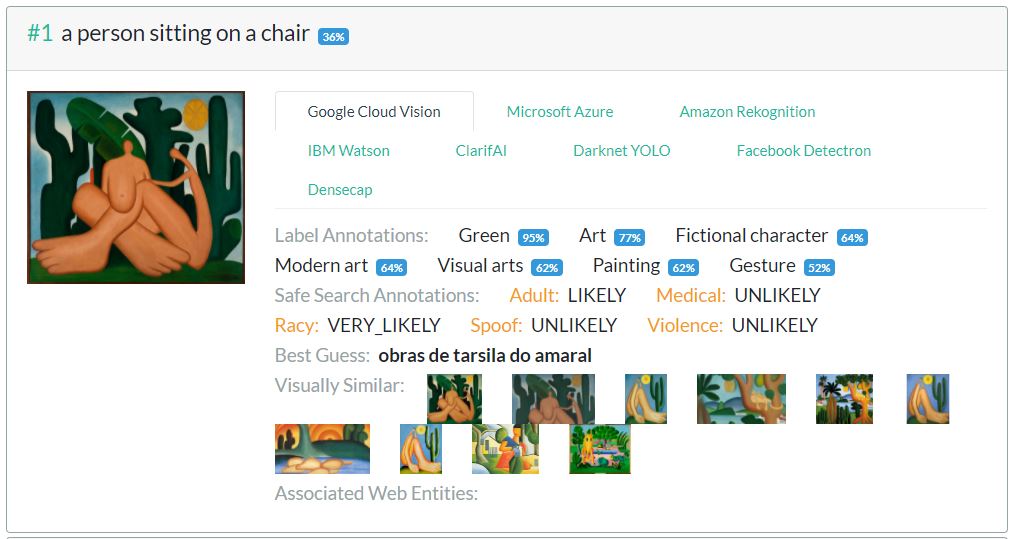 sinestesia_computacional (2020-...)
sinestesia_computacional é uma série de especulações multimídia iniciadas no contexto das atividades do GAIA - Grupo de Arte e Inteligência Artificial.
De caráter interdisciplinar, o trabalho se desdobra a partir do conceito de transdução de sinal entre informação digital e estímulos audiovisuais.

O processo computacional usado se vale de duas operações principais. Primeiro, a tradução simbólica dos valores numéricos dos pixels da imagem em parâmetros sonoros via um sintetizador sonoro. Segundo, a utilização de palavras extraídas de classificadores de visões computacionais comerciais. Os modelos que aplicaram a análise computacional das imagens faz parte do projeto Art Decoder – um script desenvolvido por Gabriel Pereira, Bernardo Fontes e Rafael Tshu (https://outra-bienal.github.io/biennal-art-decoder). O projeto é resultado do esforço coletivo de pesquisadores e artistas do Grupo de Arte e Inteligência Artificial da USP.


sinestesia_computacional [computational_synesthesia] is a series of multimedia speculations initiated in the context of the activities of GAIA - Art and Artificial Intelligence Group.
With an interdisciplinary character, the work unfolds from the concept of signal transduction between digital information and audiovisual stimuli.

The computational process used uses two main operations. First, the symbolic translation of the numerical values of the image pixels into sound parameters via a sound synthesizer code in SuperCollider. Second, the use of words extracted from commercial computer vision classifiers. The models that applied the computational analysis of the images are part of the Art Decoder project – a script developed by Gabriel Pereira, Bernardo Fontes and Rafael Tshu (https://outra-bienal.github.io/biennal-art-decoder). The project is the result of the collective effort of researchers and artists from USP's Art and Artificial Intelligence Group.

In the case of Tarsila do Amaral, the poetic procedure of her painting, known as anthropophagic (1928 to ca.1929) — which, in addition to the Abaporu, also includes O Ovo [Urutu] (1928), A Lua (1928), Floresta, (1929), Sol Poente (1929), Antropofagia (1929), among others — reworks the Eurocentric and negative concept of anthropophagy as a metaphor for a critical process of formation of Brazilian culture. Her work of this period is often characterized by the "disarticulation of the constructive form", through the submersion in a so called Brazilian "cultural materiality". Without forgetting the modern learning of formal reduction and planning of the pictorial space, the artist creates, with the stylized use of rounded shapes and emblematic colors (mainly strong shades of yellow, green, blue, orange and purple), a visual universe deeply rooted in Brazilian popular visual culture.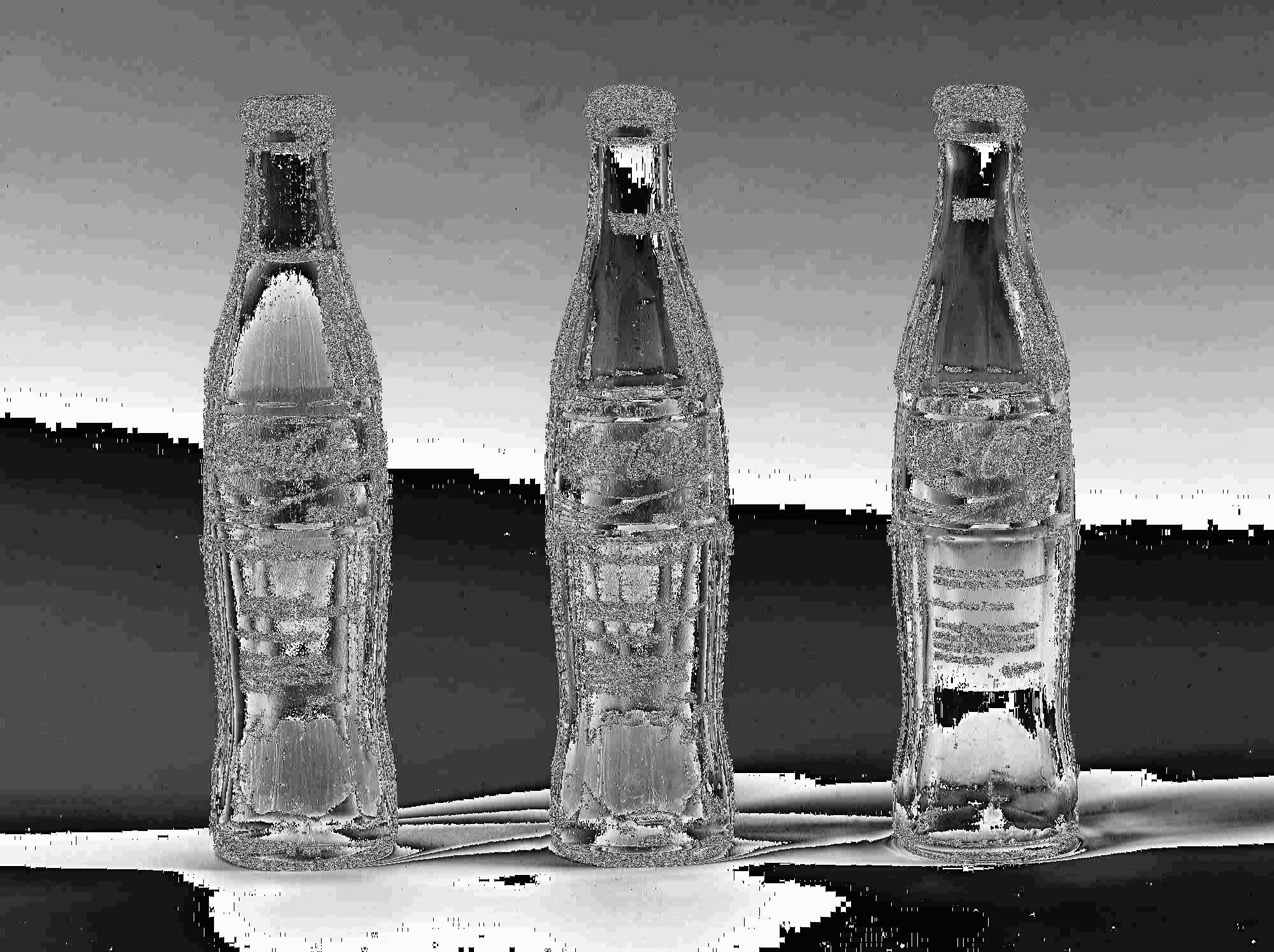 an_empty_bottle_on_a_table, 2020
Kernel edge detection onto digital image of the work
Inserção em Circuitos Ideológicos,
Projeto Coca-Cola [Insertion in Ideological Circuits,
Coca-Cola Project] (1970), by Cildo Meireles